Natural Raffia Bundles for Floral Arrangements, Packing, and Crafts, Decorations, DIY
Raffia is a natural product. It is used for decorations that aim to connect with nature. Ideal for flower arranging and gift wrapping. It can be applied in scrapbooking and mix media projects and is a real boon for those of you who like to use natural materials.
View more
12 items | pages 1/1

Filters


Filters


SKU:
812480
Weight

30

gr
Piece: 1

SKU:
812481
Weight

30

gr
Piece: 1

SKU:
812476
Weight

30

gr
Piece: 1

SKU:
812475
Weight

30

gr
Piece: 1

SKU:
802433
Weight

50

gr
Piece: 1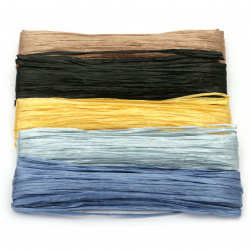 SKU:
411311
Weight

100

gr
Piece: 1

SKU:
812478
Weight

30

gr
Piece: 1

SKU:
812482
Weight

30

gr
Piece: 1

SKU:
812479
Weight

30

gr
Piece: 1

SKU:
812474
Weight

30

gr
Piece: 1
Discounts for quantity
Videos in the channel of EMART
Handmade panel for Easter
One of the biggest Christian holidays, Easter, is approaching!

We at EMART want to bring the festive mood into every home, that's why today on EMART's Creativity Day we will show you how to make a beautiful Easter decoration yourself.
Product Features
Raffia is a natural product whose name comes from a special type of palm that grows in Africa, Central and South America. After a certain type of processing, raffia fibers are transformed into high-quality textiles, which are widely used in the manufacture of clothing, footwear, accessories, and also for decorative purposes. It is also used to make various types of twine, ropes and baskets.
The raffia palm has long leaves that can reach up to 18 meters, which makes it the palm with the largest branches in the world. Each of its branches is made of nearly 100 leaves, which are then cut and torn off in parallel lines, which actually form the fibers and have a pale green color.
In the process of processing, they are removed and are long and thin. Fibers that can be dyed and used for any kind of decoration or woven as textiles into products ranging from clothes and shoes to hats and decorative mats.
However, in order to achieve this beige color of raffia, Which we all know, freshly cut and pale green fibers are left in the sun to dry.
The raffia threads are then transported to warehouses where they are sorted and separated according to quality, color, texture, length And the width of the fibers. From there, they are selected and arranged in braids, balls or reels, and the part that is designated for painting is painted to obtain colored raffia.
Application and purpose
Raffia fibers are usually exported and used as garden ties or as 'natural' strings in many countries. Another application is in tree grafting, in which case raffia is used to hold parts of plants together like a natural rope.
There is also synthetic raffia, which is made from a plastic material (polypropylene) or Artificial, which resembles viscose (obtained from a type of wood and although it is chemically treated, it still remains just cellulose).
The fibers themselves are quite soft, flexible, strong and durable, easy to Dyeing and are biodegradable, which makes them an excellent material for knitting baskets, hats, mats and carpets and an indispensable element for a more specific and naturally oriented decoration.
Raffia is used in the kraft industry to make doll hair , Hawaiian skirts, ribbons and much more. It is also very popular in the packaging industry, being used as a filler and also as a decorative item for tying a small card around a jar of jam, a bottle of wine or juice, in the packaging of gifts, soaps, candles and boxes. In general, raffia has many applications, which in turn can be versatile and really creative for decorating gifts and any other projects.
If you use recycled paper, for example, and add pressed flowers or brown Craft paper and add raffia instead of ribbon you will get a very interesting, modern and eco-looking gift wrap, photo album binding, scrapbook album or even a notebook or notebook.
Another interesting application of raffia is As a decoration with hanging autumn vegetables in the kitchen. Wreaths suitable for any time of the year or additional decoration to flowers and bouquets, scrapbook and mix media projects and much more.
Some of our products
Lico / raffia natural;
Lico / raffia natural, color red, 30 grams;
Lico / raffia natural, cyclamen color, 30 Grams;
Lico / raffia natural, color blue-green, 30 grams;
Lico / raffia natural, color dark blue, 30 grams;
Lico / Raffia natural, dark orange color, 30 grams;
Lico / raffia natural, color, purple, 30 grams;
Lico / raia natural, color green, 30 grams;
>
Lico / raffia natural, pale pink color, 30 grams;
Lico / raffia natural, beige color, 30 grams;
< In our physical stores, as well as on our website, you will find a wide range of products with which you will be able to realize any of your craft ideas or projects.
Price range
All items you will find are At extremely low and completely affordable prices, which range from BGN 2.20 to BGN 4.00.
Why EM ART?

Emart is a chain from the hobby and craft materials store. We have as many as 14 sites throughout the country. In the cities: Varna, Sofia, Burgas, Plovdiv, Stara Zagora, Yambol, Haskovo, Shumen and Veliko Tarnovo. In our updated site you will find everything you will need to implement any of your ideas or projects. And in case of any inquiries or questions, you will be served and directed by our experienced consultants.
Emart stores have an impressive variety of raffia and everything you will need to o