Notebooks & Notepads
Arrange your thoughts and everyday life using the original, designer notebooks we offer. They will make this endeavor easy and enjoyable for you. You will never go wrong if you use them as a gift. Some of them are suitable for scrapbooking. They are simple and await your decoration.
View more
13 items | pages 1/1

Filters


Filters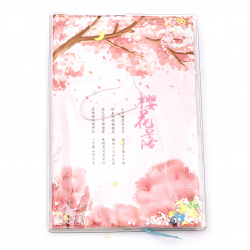 Old price
6.16 euro
Price
4.62
euro
/ Promotion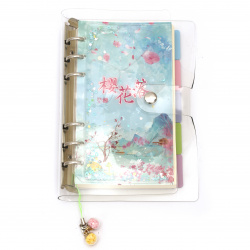 SKU:
823732
Weight

371

gr
Piece: 1
Old price
8.80 euro
Price
7.92
euro
/ Promotion

SKU:
823516
Weight

240

gr
Piece: 110

SKU:
822383
Weight

100

gr
Piece: 1

SKU:
822399
Weight

170

gr
Piece: 1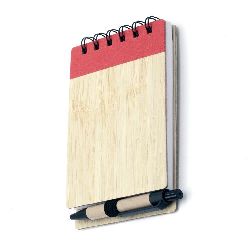 SKU:
823501
Weight

88

gr
Piece: 1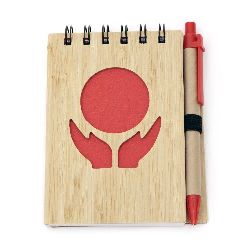 SKU:
823502
Weight

89

gr
Piece: 1
SKU:
821598
Weight

200

gr
Piece: 1





Videos in the channel of EMART
DIY Original notebook decoration
In today's video, we at EMART will show you how to decorate a notebook in an original way, which you can use personally or give as a gift to someone dear to you.
Notebook Features
In the world we live in, we are literally inundated with so many great digital tools that handwriting and paper are starting to get out of people's sight. . Now everything can be recorded or captured with the help of a device, we can even paint digitally , and all the information can be synchronized via computers, phones, tablets , up to electronic watches .
However, writing is still not completely inferior to electronics. All this is due to the multitude of evidence that shows us all the benefits of handwriting and keeping a diary.
A notebook is a book or paper pages put together, < Which are often used for taking notes or keeping a diary, for school notes, for to-do lists, meeting notes, drawing, or скрапбукинг . In other words, the notebook is one of the greatest inventions of all time . This is a product that has contributed a lot to where we are in the world today.
In the 14th and 15th centuries , notebooks were made by hand at home. Their pages were blank and each had to contain correct lines. Making and keeping diaries and notebooks became such an important information management technique that even children began to Are still in school.
Why are notebooks and notebooks lined up?
This is to give the hand a definite Writing space, often referred to as 'managed' paper. Each line is like a 'ruler' that supports the sentences so that they can be read directly from left to right.
Notebook Applications
Notebooks are infinitely many, they would be excellent repositories for:
notes related to the monthly budget
list of necessary food products < / strong>
list of places you want to visit in the future
favorite recipe notes
notebook organizer or a diary to record everything you care about, from how your day went and what impressed you to what you're grateful for.
And you don't even have to use it just for writing, as it's also a great place for your sketches, drawings or diagrams .
Another way to use A notebook is to keep track of certain things over time or habits such as how in Tear your workouts, whether you eat according to your current regimen and others. You can also practice calligraphy , copying various favorite quotes, thoughts and verses.
It is always useful to carry a notebook with you, because that way you will be able to < Write down each of your thoughts before you forget it.
Carrying a notebook or notebook has been an integral part of the creative process for centuries. Big names like Ludwig van Beethoven, Benjamin Franklin and even Mark Twain always carried one with them wherever they went. Even today, modern authors and composers do so because you never know when they will be inspired.
Writing is a process very similar to meditation, Allowing us to relax because we focus on only one thing and don't think about anything else. It doesn't take anything from us, but it gives us so much. And one of the best things you can do is keep a diary where you write down every experience, feeling, and thing that excites you.
And finally, this habit, < / strong> if you manage to turn it into one it will bring you so many positive things like, for example, you will start easier to shake off any unpleasant feeling by simply pouring it on paper and every beautiful experience You will seal it as a souvenir forever.
Keeping a notebook has thousands of applications without limits. The notebooks have beautiful designs and are completely compact . They could easily fit in a bag and are something that will remain a precious memory for years to come and will probably be the reason for many smiles. Keeping a diary or notebook is something so fascinating that we just can't help but spend at least a few minutes of our hectic daily life and dedicate it to this amazing hobby. P>
Here are a few more reasons why it's good to keep a notebook:
Memory fades, but writing doesn't < / em> - It often happens that we all do